Every time I ask my sister for any food requests I can make for her, she asks for this cornbread and Deviled Eggs. Every. Single. Time.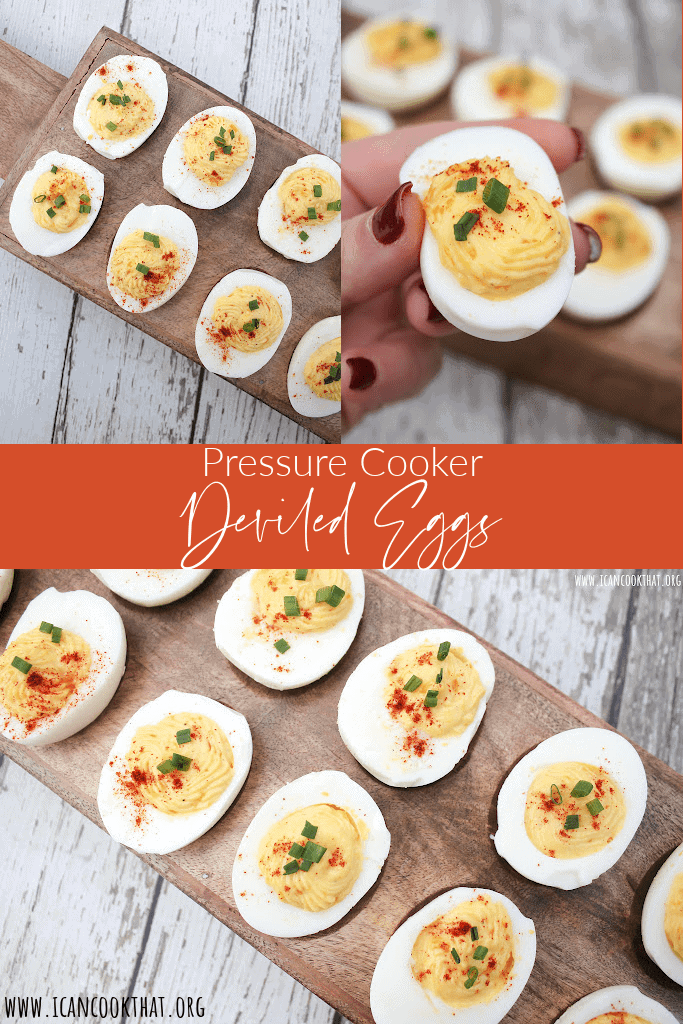 So, after years and years of her requesting it, I finally decided to make her a batch of deviled eggs using my Instant Pot (paid link).
Ingredients (makes 1 dozen deviled eggs):
6 large eggs, right from the fridge
1 teaspoon Dijon mustard
1 teaspoon apple cider vinegar
2 dashes hot sauce
3 tablespoons mayonnaise
salt and ground pepper, to taste
sprinkle of paprika, for garnish
freshly chopped chives, for garnish
Add 1 cup of water into your Instant Pot then add in a metal trivet. You can use an egg steamer rack (paid link), or just the trivet that comes with your Instant Pot; you just don't want the eggs to be touching the bottom of the pot.
Remove your eggs from the fridge and immediately add them to the trivet.
Add the lid and lock into place, making sure the vent valve is closed. Set your Instant Pot to manual and cook for 5 minutes on high pressure.
While the eggs cook, fill a bowl with ice water.
Once your Instant Pot beeps, let the eggs sit in the sealed Instant Pot for another 5 minutes, then release the vent valve.
Carefully transfer the eggs to the ice water and let cool for 5 minutes.
After 5 minutes, peel your eggs, then slice each egg in half lengthwise.
Carefully scoop out the yolks from each half into a small bowl.
Mash with a fork.
Add the mustard, apple cider vinegar, hot sauce, salt, pepper, and mayonnaise stirring to combine.
Fill in each egg with about 1/2 tablespoon of the egg yolk mixture. Sprinkle with paprika.
Top with chives.
The 5-5-5 method (5 minutes Instant Pot cook, 5 minutes rest, 5 minutes ice bath) makes for a perfect hard boiled egg!
This Pressure Cooker Deviled Eggs recipe is pretty classic so you can adapt it to your liking, although it's a classic for a reason!