Tomorrow, March 19th, is the Feast of St. Joseph, an important feast day in Italy or more specifically, Sicily. St. Joseph is particularly important to Sicilians, because he is credited with preventing a famine in Sicily during the Middle Ages through prayer. Each year, a large feast is prepared in his honor. Desserts typically include Zeppoli and Italian Fig Cookies.
Italian Fig Cookies, or Cuccidati, also tend to show up around Christmastime, so they are more of a "celebratory" cookie than linked to any specific holiday.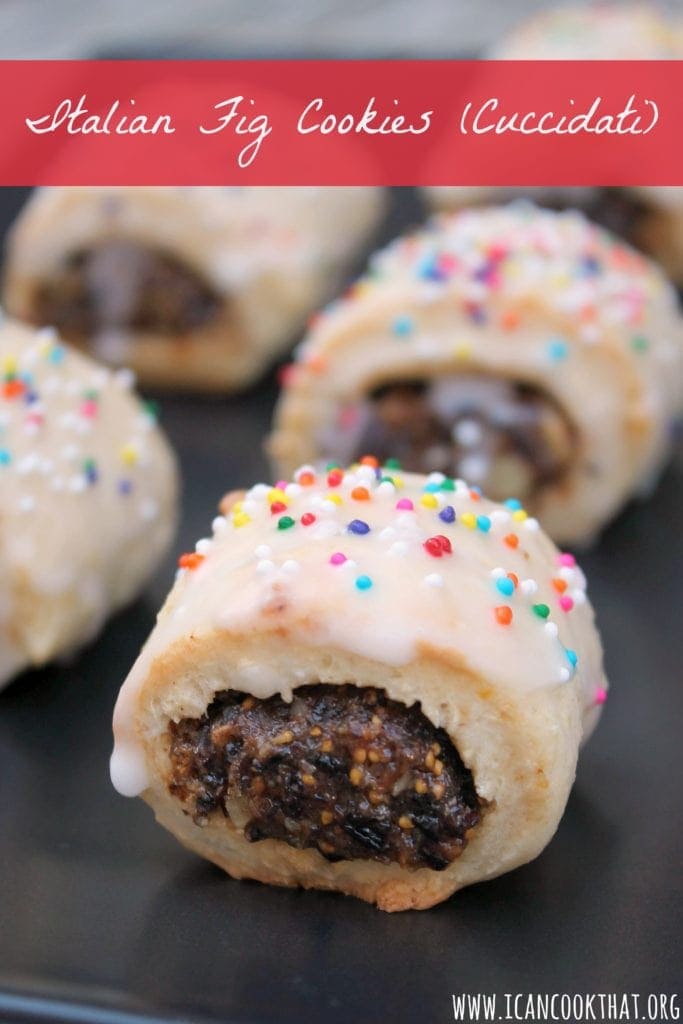 I wasn't ready to conquer Zeppoli just yet, so I thought I'd try Italian Fig Cookies! This recipe is based off a recipe from Epicurious.
Ingredients:
Cookies:
1/2 cup honey
6 tablespoons brandy
4 teaspoons orange juice
2 cups chopped dried figs
3 3/4 cups all-purpose flour
1/2 cup granulated sugar
1 1/2 teaspoons baking powder
1/4 teaspoon salt
2 large eggs
6 tablespoons milk
the zest of 1 lemon
1/4 teaspoon ground cinnamon
1/2 cup walnut pieces
Glaze:
1 1/2 cups confectioners' sugar, or as needed
1/4 cup milk, or as needed
1/2 teaspoon almond extract
Optional:
sprinkles, for decoration
Add the honey, brandy, and orange juice to a pot and bring to a boil.
Lower the heat, add in the chopped figs and bring to a simmer.
Simmer until the figs plump, about 3 minutes.
Remove from heat and let cool completely. While the figs cool, add the flour, sugar, baking powder, and salt to a stand mixer (or to a large bowl, and use an electric mixer to combine), mixing to combine.
Add the eggs and milk to a small bowl, whisking with a fork.
Make a well in your flour mixture and pour the egg-milk mixture into the well.
Stir, using a dough hook, until the dough mostly comes together.
Remove the dough and add to a plastic-wrap lined  countertop. Knead the dough on the counter once or twice, then wrap in in the plastic wrap and let rest in the refrigerator for at least 1 hour or up to overnight until firm.
When the fig mixture is completely cool, add to a food processor with the lemon zest and cinnamon. Process until it becomes a paste.
Add in the walnuts and pulse a few times, but make sure to keep the nuts slightly chunky.
Transfer to a bowl and freeze until firm, about 30 minutes. When ready to bake, preheat your oven to 350 degrees F. Divide the dough in half. Take one half and roll between two sheets of parchment paper into a rectangle about 16×7 inches (a small cookie sheet is about 13×9, to give you an idea of the size).
Cut this rectangle in half with a knife lengthwise, to make two long strips.
Take 1/4 of the fig filling and roll into a log as long as your strips. Place it in the center of one of the strips.
Use a pastry brush to lightly wet one long edge of the strip with water. Using the parchment paper underneath, roll the dough around the filling until the two ends of the dough meet. Press to seal the log. Roll the log until the seam is underneath, then flatten the top slightly with the palm of your hand.
Repeat with the remaining dough and filling; you'll end up with 4 long logs. Cut the logs into 1-inch lengths using a wet knife and add to parchment-lined baking sheets.
Bake at 350 degrees F until golden, about 15 to 20 minutes. Transfer the cookies to a wire rack to cool completely.
When completely cool, glaze the cookies. Sift confectioners' sugar into a bowl and stir in the milk and almond extract with a fork until smooth.
Dip each cookie top size down about half way into the glaze, then add to a wire rack to let dry.
If desired, top with sprinkles before the glaze sets.
Let dry completely before eating.
These are dangerously good.
The almond extract in the glaze really amps up the flavor of the fig mixture!
This recipe makes roughly 40 cookies, depending on how big you cut each cookie.