St. Patrick's Day is right around the corner, which means Americans nationwide are gearing up for a corned beef and cabbage feast. Despite being Irish-American myself, I've never eaten this St. Patrick's Day staple before. My boyfriend, a huge corned beef fan, was really looking forward to having some, so I finally decided it was time to try to make it. I choose to adapt this recipe from Food Network for Slow Cooker Corned Beef and Cabbage so that I could use my slow cooker and not have to watch over it for hours.
Ingredients:
Add the corned beef to the slow cooker. Your corned beef should come with a little packet of pickling spices.
Add that on top of the beef.
Layer the rutabaga
carrots
potatoes
onion
and leeks to the slow cooker. Layer them this way so that they all cook evenly.
Add 6 cups of water to cover the meat.
Cover and cook on low for 8 hours.
Remove the meat and vegetables from the slow cooker and keep warm. (Keep that warm liquid in the slow cooker.) Add the cabbage to a microwave safe dish and pour 2 cups of the liquid from the slow cooker on top. Cover and microwave for 7-10 minutes or until the cabbage is tender.
While waiting for the cabbage to cook, add another 1 cup of the cooking liquid to a saute pan and boil until it reduces by half, about 10 minutes.
Add the liquid to a bowl with the Dijon mustard and creme fraiche. Mix to combine.
Slice the corned beef and serve with the vegetables, cabbage and sauce.
Whelp, slicing didn't work out for us. The meat was so tender it just shredded when touched (I am not complaining).
The vegetables were cooked perfectly, you barely needed a knife to cut them!
I really liked the sauce too. The horseradish and Dijon were nice without being overpowering.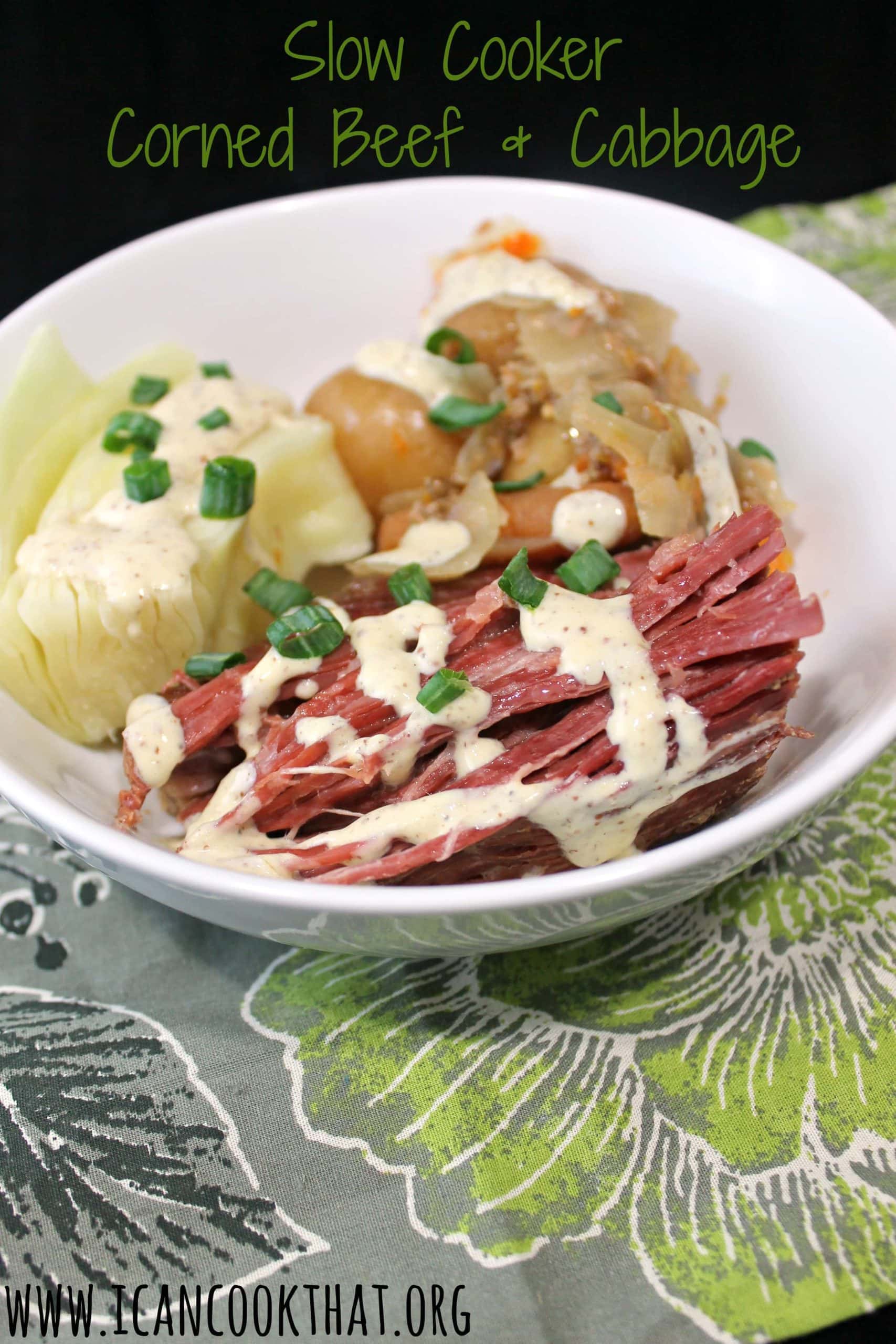 So, I really don't like cabbage. But my boyfriend ate all of his, plus mine, so I'm guessing it was tasty as well!