Note: I was sent a bottle of Black Button Distilling's Bespoke Bourbon Cream in order to write this post. Opinions are mine alone.
If you're a fan of creamy cocktails, I have the perfect cocktail to share with you today! The team at Black Button Distilling sent me a recipe for a Maple Chai Latte Cocktail that sounded so tasty I knew I had to pass it along.
Black Button Distilling, based out of Rochester, NY, was actually Rochester's first grain-to-glass distillery since prohibition when it was established in 2012. The cocktail is made with Black Button Distilling's Bespoke Bourbon Cream, which combines their hand finished bourbon and local farm fresh New York State cream — it's similar to Irish Cream but the bourbon brings a different (and delicious!) flavor profile.
This Maple Chai Latte plays up the vanilla and caramel notes in the Bourbon Cream with the addition of maple syrup, a chai simple syrup, and coffee liqueur.
You can buy chai simple syrup (paid link), but I've included a recipe below in case you want to make your own at home, like I did.
Ingredients (serves 2):
ice
3 oz Bespoke Bourbon Cream
4 oz coffee liqueur
1 oz Chai simple syrup (recipe below)
1 oz maple syrup (I used a bourbon barrel-aged maple syrup to really up the flavor!)
coffee beans, for garnish, if desired
star anise, for garnish, if desired
Chai Simple Syrup ingredients:
1 cup sugar
1 cup water
12 green cardamom pods
12 black peppercorns
12 whole cloves
2 cinnamon sticks
3 star anise
3 tablespoons fresh ginger, chopped
1 teaspoon vanilla extract
You can make the Chai simple syrup ahead of time. Start by lightly crushing the cardamom pods with the side of a knife to split them.
Add the sugar and water to a small pot over medium heat, stirring to combine.
Stir in the cardamom pods, peppercorns, whole cloves, cinnamon sticks, star anise, ginger, and vanilla extract.
Bring to a boil, then lower to a simmer. Let it slowly simmer for 10 minutes, stirring every minute or so.
After 10 minutes, remove from heat and let cool for about 15 minutes.
Strain the syrup through a fine-meshed sieve and pour into an 8 oz jar.
If making ahead of time, tightly close the lid and keep refrigerated. (This syrup will last about 6 months in the fridge).
To make the cocktail, fill a cocktail shaker halfway with ice.
Add in the bourbon cream, coffee liqueur, chai simple syrup, and maple syrup.
Add the lid and shake for about 30 seconds, until well combined.
Either strain into a rocks glass filled with ice, or a coupe glass, whichever you prefer. (I like it better over ice, but it makes for a fun cocktail in a coupe glass too!)
If desired, top with coffee beans and star anise.
This drink has a lot of sweetness from the maple syrup and simple syrup, but it isn't clawingly sweet. It is definitely a festive cocktail, perfect for this time of year!
Maple Chai Latte Cocktail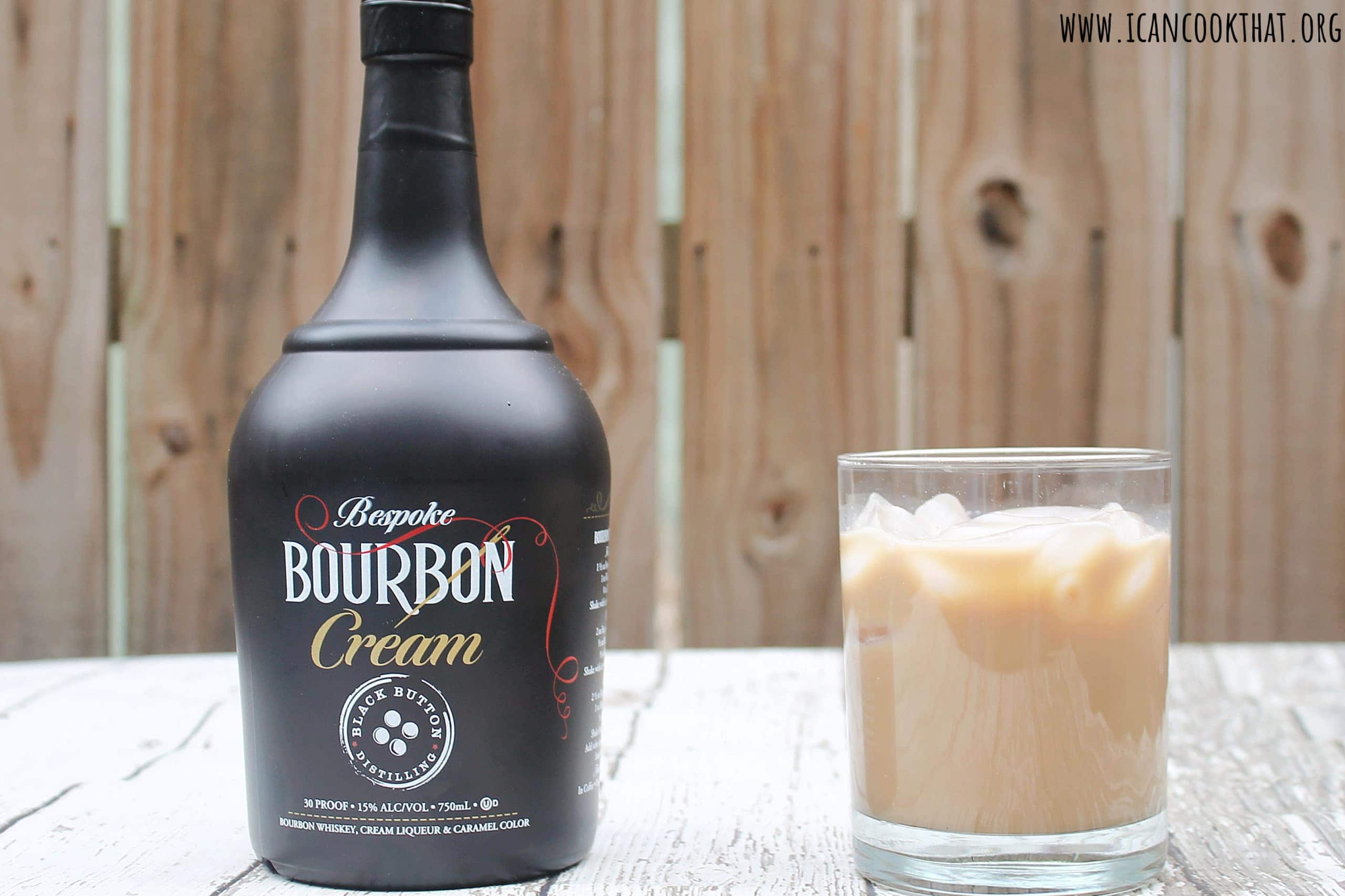 Ingredients
Maple Chai Latte:

ice
3 oz Bespoke Bourbon Cream
4 oz coffee liqueur
1 oz Chai simple syrup (recipe below)
1 oz maple syrup (I used a bourbon barrel-aged maple syrup to really up the flavor!)
coffee beans, for garnish, if desired
star anise, for garnish, if desired

Chai Simple Syrup:

1 cup sugar
1 cup water
12 green cardamom pods
12 black peppercorns
12 whole cloves
2 cinnamon sticks
3 star anise
3 tablespoons fresh ginger, chopped
1 teaspoon vanilla extract
Instructions
You can make the Chai simple syrup ahead of time. Start by lightly crushing the cardamom pods with the side of a knife to split them.
Add the sugar and water to a small pot over medium heat, stirring to combine.
Stir in the cardamom pods, peppercorns, whole cloves, cinnamon sticks, star anise, ginger, and vanilla extract.
Bring to a boil, then lower to a simmer. Let it slowly simmer for 10 minutes, stirring every minute or so.
After 10 minutes, remove from heat and let cool for about 15 minutes.
Strain the syrup through a fine-meshed sieve and pour into an 8 oz jar.
If making ahead of time, tightly close the lid and keep refrigerated. (This syrup will last about 6 months in the fridge).
To make the cocktail, fill a cocktail shaker halfway with ice.
Add in the bourbon cream, coffee liqueur, chai simple syrup, and maple syrup.
Add the lid and shake for about 30 seconds, until well combined.
Either strain into a rocks glass filled with ice, or a coupe glass, whichever you prefer. (I like it better over ice, but it makes for a fun cocktail in a coupe glass too!)
https://icancookthat.org/2021/12/maple-chai-latte-cocktail.html