NOTE: I was sent a pack of Sourdough Crackers and Szechuan Candied Pecans from Aida for this post. All opinions are my own.
I love a good cheese plate, they are great as an appetizer or as an end to a meal.
I was contacted by Aida, a specialty food brand created by the owners of the East Village wine-on-tap bar, Lois. Aida, recently launched, features handcrafted cookies, nuts, and crackers inspired by the products they created for their wine bar. I was sent their Sourdough Crackers and Szechuan Candied Pecans, which I thought would make for the beginnings of an awesome cheese plate!
Aida is a New York City-based, women-owned business that makes a curated line of pantry staples and entertaining essentials. Founded in 2016 by Nora O'Malley and Phoebe Connell, Aida products are inspired by the recipes and customer relationships that they developed in their tiny East Village all-tap wine bar, Lois on Loisaida Avenue. Today, Aida's mission is to make eating well and entertaining easily simple by offering inspired and reliable go-to products.
In my opinion, you can't really do a cheese plate wrong, whatever sounds good to you will work just fine. I wanted to play off of the spicy-sweet flavors of the pecans, so I went to my local cheese shop and asked for help choosing cheese that would work well with spicy and sweet flavors. Here is what I ended up with:
1605 Manchego: A sheep milk cheese from Spain, this Manchego is earthy and sweet. I added a drizzle of honey on top to bring out more of its sweetnes.
Von Trapp Oma: Made by the famous Von Trapp family, this cow's milk cheese from Vermont is very creamy, buttery, and slightly funky. I added a bit of spicy whole grain mustard to balance out the funkiness of this cheese.
Delice de Bourgogne:  A cow's milk cheese from France, this cheese is creamy and slightly salty with a buttercream flavor. I served this with a spiced peach jam that my sister-in-law gave us.
I also added dried apricots, hot sopressata, and the Szechuan candied pecans to the plate, and served the sourdough crackers alongside the cheese plate.
Each of these cheeses worked well with either something sweet or something spicy on the plate.
The sourdough crackers were the perfect accompaniment, because the flavor is relatively neutral so it lets the rest of the ingredients shine.
I had to keep adding more and more Szechuan Candied Pecans to the plate because my husband kept eating them all! The spicy-sweet flavors are addicting!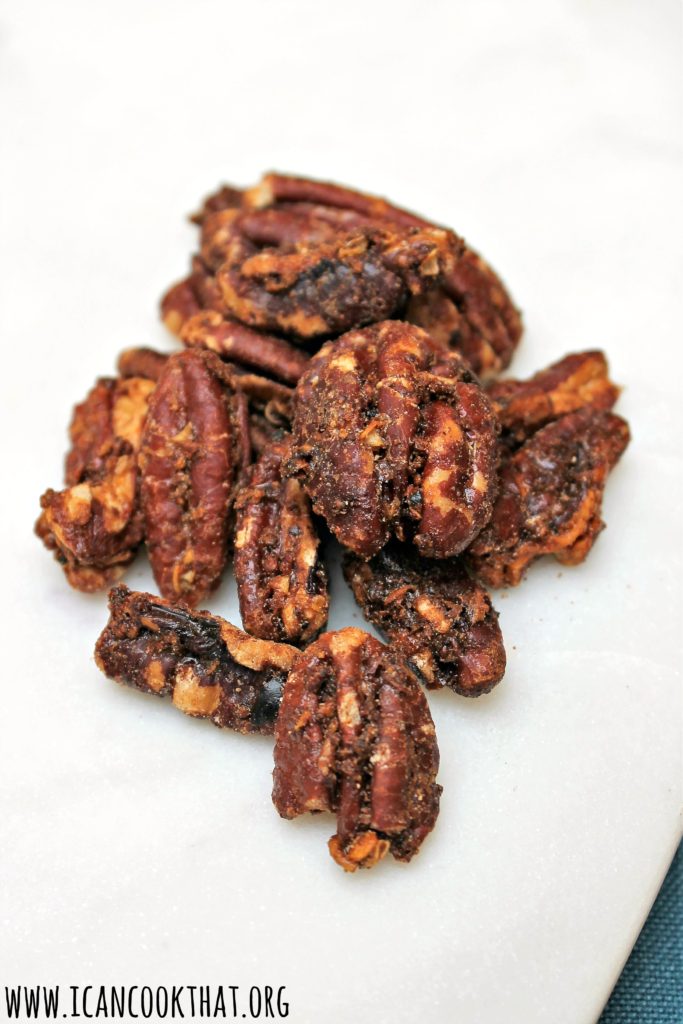 Aida has a bunch of other offerings as well, including:
Currant Crisps: a spiced interpretation of the shortbread cookie.

Lemon Candied Pepitas: salty pepitas with a healthy dose of sweet citrus and a subtle peppery kick.

Rye Crackers: Old World flavors, both complex and comforting.
In addition to being available online, Aida is currently available in the following specialty food shops throughout New York City: Bedford Cheese Shop, BKLN Larder, Stinky BKLN, Alphabet City Beer Company, and Malt & Mold. More retail locations to come, but food lovers everywhere an purchase the products at www.AidaEats.com.
What are some of your favorite add on's to a cheese plate?