Note: I was sent a Holiday Tea Package from Adagio Teas in order to write this post. Opinions are mine alone.
The holidays are fast approaching, so hopefully you're ok with me doing a Christmas-themed post. I couldn't wait to show off this yummy recipe for a Reindeer Fuel Tea Latte, and highlight some awesome holiday offerings from Adagio Teas!
Lattes are typically made with espresso and hot steamed milk, but this uses a stronger blended tea from Adagio Teas calls Reindeer Fuel, topped with steamed froth milk.
Reindeer Fuel is a Limited Edition blend of black tea, toasted mate, cocoa nibs, peppermint and ginger that is "specially formulated to give Santa's team the caffeine boost they need to keep dashing through the snow." It is only available as a gift with a purchase starting today, November 15th, so if this sounds yummy to you, make sure to stock up ASAP!
There are plenty of awesome gifts for others (or yourself!) at adagio.com, including a tea Advent Calendar to help you count down the 24 days before Christmas and a 12 Days of Christmas Gift Set is intended to be enjoyed during the 12 days after Christmas.
The advent calendar includes 24 individual servings (enough tea for an 8oz cup of tea) for each day between December 1 and Christmas Day. Adagio sent me one of the calendars so if you purchase one, you can enjoy it along with me on my Instagram stories in December!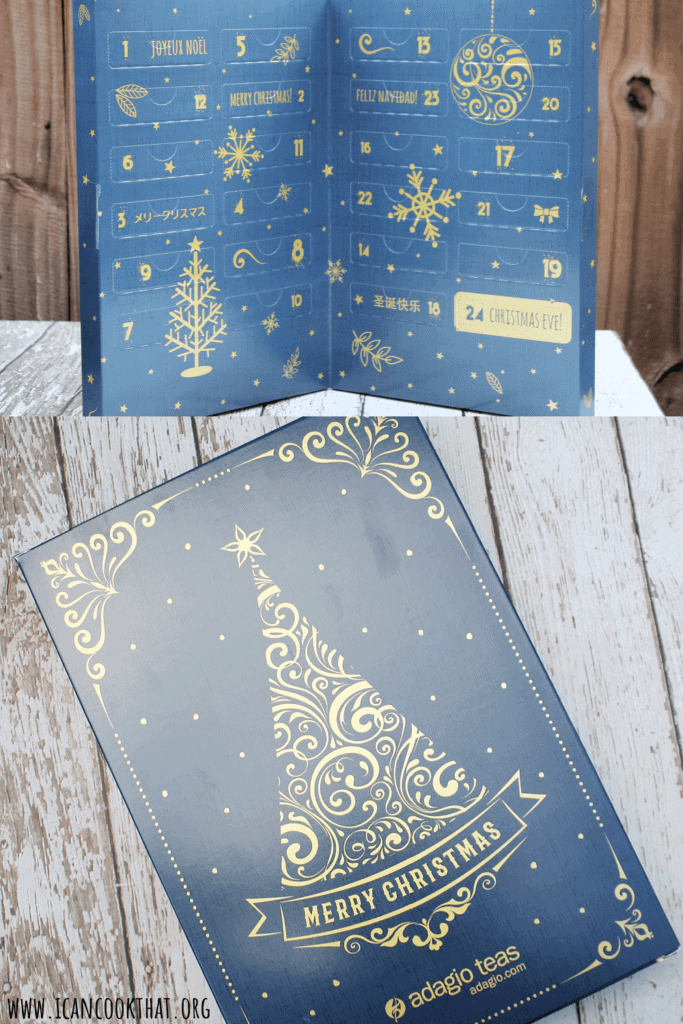 The 12 Days of Christmas Gift Set includes 12 different teas that line up with the "gifts" listed in the 12 Days of Christmas song. Each single serving of loose tea comes in its own little tin, which line up to create a fun scene. Even better, they can be hung as ornaments until ready to be brewed!
Adagio Teas have a bunch of other Christmas-themed gifts on their website, along with an impressive number of teas, teaware, and other gifts that are worth checking out too.
On to the recipe!
Ingredients (serves 1, multiply as needed):
To make, begin by boiling your water to 212 degrees F (100 degrees C). Add the Reindeer Fuel tea leaves to an infuser and let steep in the hot water for 3 to 5 minutes.
While waiting for the tea to brew, add the half and half or oat milk to a microwave safe bowl or mug and heat for 30 seconds in the microwave or until steaming. If you have one, use a milk frother to froth the half and half or oat milk for 1 to 2 minutes. (You could also add the milk to a small jar and shake until frothy.)
Add the brewed tea to a cup and top with the frothed milk.
If using, add a small amount of cocoa powder to a dusting wand. Lightly tap the wand while holding it over your latte. (You can also just sprinkle it on by hand).
Serve immediately.
The cocoa flavor comes through nicely, with hints of the peppermint and ginger. The frothed milk adds a nice creaminess, which makes this latte a comforting drink that would be perfect on a cold day, sitting in front of a fire (or a yule log on your TV!)
I really enjoy the Reindeer Fuel blend, so I strongly suggest checking out adagio.com the week of Thanksgiving so you can snag some for yourself! I can definitely see myself having a cup of this throughout the winter months!